Insulation
Possibly the most important element in low input home design is the insulation. Insulation protects the investment in heating the space naturally by keeping the heat from escaping out of that heated space. Blacktail Solar Homes have R-50 in the space above the ceiling and R-20 or better in the walls. Crawl spaces under the houses are insulated to about R-15. All combined, these houses have excellent thermal characteristics.
Winter Heat
Solar heating is a big part of Blacktail Solar homes. You will find it described in some detail at Heater details.
Electric heating is usually not the least expensive, but these homes are designed to require relatively little heating, and the solar panels will offset much of the cost. All external heat is electric.
Walls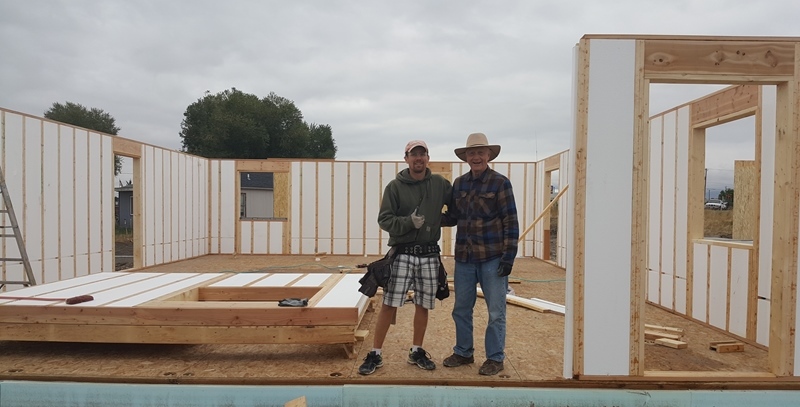 Traditional framing uses 2x6 studs with fiberglass bat insulation. The studs act as conductors of heat from inside the house to the outside and even the most careful fiberglass insulation installation will have drafts and uneven coverage.
The above image shows Blacktail Solar Home 2A with exterior walls almost complete using ABS Northwest panels. See more at: ABS Northwest Panelized Wall Systems
Benefits
Engineered Wall Systems

Designed for Fast and Easy Installs.

Building Code Approved

ICC/IRC, BOCA, and UBC

Cost Effective

Good for Your Business AND the Environment

Non-Toxic – No Off Gassing –

No Chemicals

Reduce Air Conditioning and Heating Capacity Requirements

High Quality

Assembled in a Factory Environment

Reduced Thermal and Sound Bridge

Resistant to

Mold, Mildew, Moisture, Fire, and Insects

Superior Strength and Insulative Properties Compared to Traditional 'Stick Frame' Construction

Benefits Do Not Diminish Over Time

Made in Montana

Healthy and Safe
Conventional framing
Blacktail Solar Home 3A is built using conventional framing. The wall insulation is 2 inches of Spray Polyurethane Foam (SPF) in addition to conventional fiberglass batts. Window glass is the same quality as the other two homes. See more information about SPF and quality glass in the FAQ.